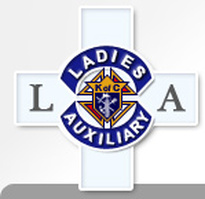 Officers
President-
Linda Gragone
Vice Pres. -
Pat Van Staveren
Secretary-
Cindy Hunt
Treasurer-
Rosie Landa
Trustee-
Patty Mylius
Advisor-
Mary Ann Spencer
Standing Committees:
Membership-
under the V. Pres., this committee is responsible for membership and all matters related to the organization of the Auxiliary membership.
Phone-
Call members for special meetings or events
Social-
Social activities are organized by this committee with help from general membership.
Decorations-
responsible for beautification of events.
Sunshine-
provides "Rays of Sunshine" through birthday and anniversary cards to the members. Also, provides support in time of loss.
Refreshments-
Organize refreshments for monthly meeting.
Pro-Life-
Plan activity to support and promote Pro-Life Sunday
We would love to have you join us!
Ladies Auxiliary of the Knights of Columbus
St. Anthony of Padua Roman Catholic Church
7801 Bay Branch Drive
The Woodlands, TX 77381
Email President Linda Dragone at:
ladyd50@aol.com
Phone: (936) 588-6084H (561) 315-2989C
or
Email VP Membership at:
pmvs2007@gmail.com
What we stand for…
Faith
Friendship
Service
Ladies Auxiliary of the Knights of Columbus Council 12327
832-948-0568